R.V.S Elite Hockey Development Program
Royal Vale School in collaboration with Rapid Hockey Development is offering students the opportunity to bring their hockey skills to the next level with a unique concentration program.
Who is Rapid Hockey?
Rapid Hockey Development have been leaders in player development for over 20 years and who's former students can be found at the highest levels of hockey including the NHL.
What does the program offer?
A superior educational experience at Royal Vale School complete with advanced mathematics and science programming.
70 hours of on-ice training at Doug Harvey Arena with no conflict to the regular school day
55 hours of off-ice training at Royal Vale School with certified strength and conditioning coaches.
Open to high school students and elementary students from grade 3 to grade 6.
Program Cost: $1475.00 plus tax
How can I register my child?
Parents of eligible students must complete a registration form and include a $400.00 deposit payable to Rapid Hockey. Registration forms for the hockey program can be found under Optional Programs Registration in our Admissions section.
Our Program Ambassador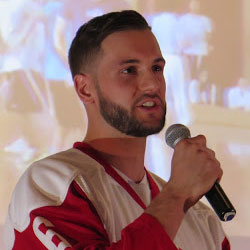 Whom do I contact?